Bell Systems, Class change & PA Systems
Ensure Your Organisation Runs
on

Time

and

Is Kept Informed

with

Bodet's Synchronised Bell, PA & Class Change Systems

Bodet's Synchronised Bell, Class Change, PA and Lockdown Alert Systems are used by thousands of organisations across a range of sectors such as education, manufacturing, logistics, banking and healthcare. They offer an innovative and practical approach to ensure your organisation runs on time and is kept safe and informed.
Key Benefits of Bodet's Synchronised Bell, Class Change & PA Systems
Synchronised bells across your premises with our easy to use software.
Create zones with different schedules.
Lockdown Alert System as part of our wired Harmonys Bell System, with local and remote triggering methods.
Make your own recordings using the microphone or our Harmonys Talk app.
Choice of wired, wireless or IP based systems.
Ability to link the electric bell system to Bodet's Synchronised Clock System.
Control the timing of other systems such as heating and lighting.
DOWNLOAD AUDIO SOLUTIONS BROCHURE
Why use Bodet's Bell & Public Address Solutions
We can offer you two types of Bell System. Our Melodys range is a wireless Bell System which means no cabling across equipment. Harmonys is an IP Bell System which runs across your IT network using Power Over Ethernet (POE) to power the system and enables users to broadcast a dedicated lockdown alert, as well as live messages. It also provides a connection to an induction loop with Harmonys Line, and additional functionality through mobile and PC applications.
Our Bell Systems have worldwide presence, with customers in France, Spain, Belgium, Norway, Portugal, Vietnam and Egypt.
Harmonys Trio: A 3-in-1 multifunction sounder with audio, flash and LED display
Harmonys Trio is the latest innovation from Bodet, combining all of our audio and time technological expertise in just one unit. This IP/PoE sounder easily integrates with your existing network, providing a range of customisable functions normally requiring multiple products.
Audio: broadcasts alerts, live or pre-recorded announcements, melodies and streaming audio
Flash: draws attention to any displayed message, can be used for silent alerts or in noisy environments
LED display: displays accurate time or fixed/scrolling messages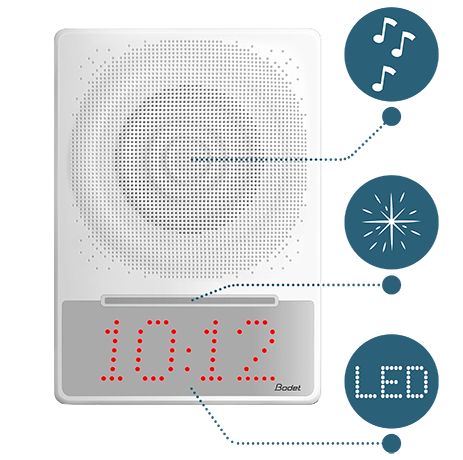 Class Change System for Schools
Enhance punctuality, increase learning time and improve communication in your school using Bodet's Class Change, Lockdown Alert and Public Address System tailored for the education sector.
Flexible features include a range of wired and remote trigger methods for alerts, the ability to record and broadcast announcements from smartphones and visual alert indicators for noisy areas.
CLASS CHANGE SYSTEM FOR SCHOOLS
Bell Solutions for Industry
Synchronised bells alert staff to the start and finishing time of their shifts and breaks. This increases workforce efficiency and improves punctuality. They are often used in factories, warehouses and manufacturing plants. Bodet's Factory Bell Systems solutions can also control any electrical system such as lighting and heating, as well as providing public announcement functions and emergency alerts.
BELL SOLUTIONS FOR INDUSTRY